We've had it with the whole art world, too commercial.  It's all about the money, and none of it is coming our way.  We're going to try to blog on subjects other than art, like last night we had pizza for dinner and good pizza it was too, none of that Papa John's crap for us.  Actually we have nothing against the Papa, he does his best, pours his heart and soul into every pizza he makes.  And he makes them all himself, with his bare hands which he fails to wash when he comes out of the bathroom, don't let that get around. 
We've been riding our bike, that's interesting, and since we refuse to buy a helmet or look as we fly through intersections against the light it's only a matter of time before we get smushed like the rats we're always running across in the flat rat alleys around Mrs. UF's apartment.  Riding our bike makes us feel like Alfred Jarry, we are free and French and very Ubu, very very Ubu indeed.  Actually it's murder climbing the hill to Columbia Heights where we live, they don't call them the "Heights" for nothing. We're in the easiest gear and we're huffing, as all those sickening Tour de France-dressed bozos whizz by us with ease.  Who do they think they are, in their fancy gear and spandex tights and special shoes gee whiz they look like idiots, but boy can they fly! 
And now we're out of coffee, that won't do, we need our coffee if we're going to ramble on about nothing in particular, yesterday we saw a book in Kramer's about the English folk rock movement that we're going to have to bite the bullet and buy because it promises to be a great fount of information about all the English folk rock bands we can't stand, like Steeleye Span.  And Pentangle.  Who would write such a book? And then have the unmitigated gall to sell it in the U.S., where there are maybe six people (including us) who care? We must meet this person, he must be interesting.  Nothing is interesting, the rapture came and went, and we got left behind along with every single other person in the world, and not a single one of us has any idea what to do now, now that it's Tuesday except go downstairs for more coffee.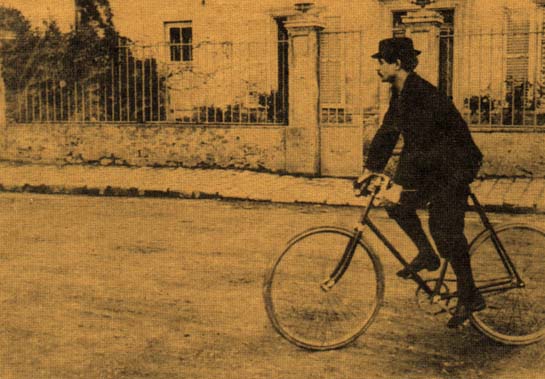 alfred jarry